Are you a local artist? Looking for a unique setting to showcase your work? If you, or anyone you know, is interested in holding an exhibition at The Goulburn Club please contact Goulburn Club Exhibitions Co-ordinator
download information for exhibitors
email: art@goulburnclub.com.au
Current Exhibition
'Taralga Art Group'
From Friday 29th April 2021 to Sunday 25th July 2021
Works of art by Jan Green, Jan Elliot, Esther Voorwinden, Vicki Moloney
Various styles of Acrylics, Vinyl Prints, Vinyl Intaglio and Etching, Mixed Media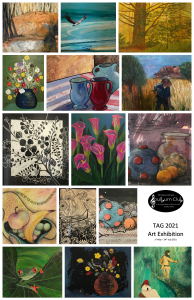 Future Exhibitions
Geoff Henderson – 6th August 2021 to 25th October 2021
Katerina Mortensen – 28th October 2021 to 3rd January 2022
Trish Morrison – 7th January 2022 to 25th April 2022
Holly Hartwell – 29th April 2022 to 25th July 2022
Julie Norris – 29th July 2022 to 24th Oct 2022 – TBC
………………..
Previous Exhibitions
'Persistence'
by Holly Hartwell
From Friday 5th February 2021 to Sunday 25th April 2021
My artwork over the past 20 years has consistently circled back to imaginative realism,
I just love it!
My goal is to help others connect with their imagination again,
to find that child-like wonder and fascination with life that sadly gets sucked out of us as we get older.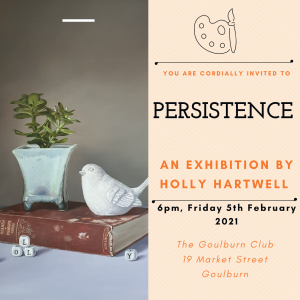 …………………..
19 Market St Goulburn NSWPh: 02 4821 2043
art@goulburnclub.com.au