The Annual LEGENDS OF ROCK and POP TRIBUTE NIGHT
'PAUL SIMON'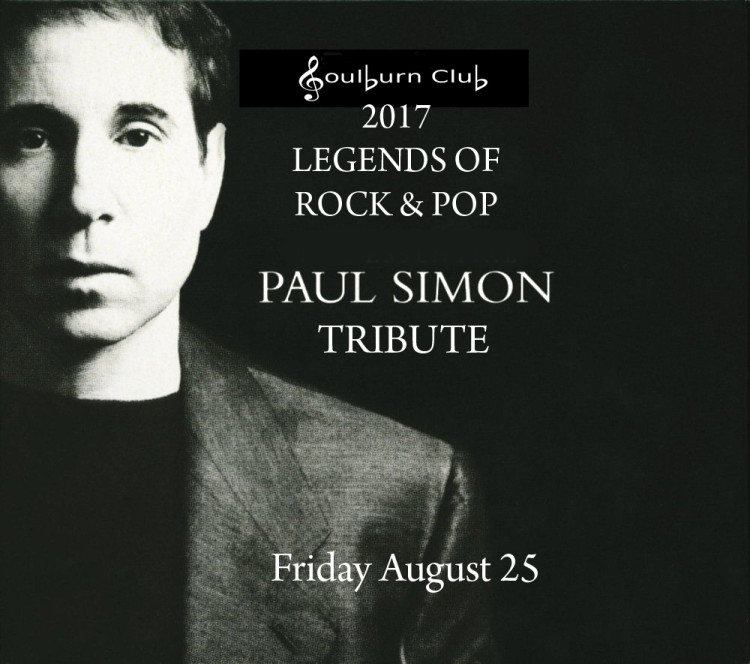 Admission –  voluntary donation to the Suluhisho fund. Read about this wonderful charity here: http://suluhisho.com
During his distinguished career Paul Simon has been the recipient of many honors and awards including 12 Grammy Awards, three of which ("Bridge Over Troubled Water", "Still Crazy After All These Years" and "Graceland") were albums of the year. In 2003 he was given a Grammy Lifetime Achievement Award for his work as half of the duo Simon and Garfunkel. He is a member of The Songwriters Hall of Fame, a recipient of their Johnny Mercer Award and is in the Rock n' Roll Hall of Fame as a member of Simon and Garfunkel and as a solo artist. His song "Mrs. Robinson" from the motion picture "The Graduate" was named in the top ten of The American Film Institute's 100 Years 100 Songs.
The Goulburn Club will celebrate the music and life of Paul Simon for the 2017 'Legends of Rock & Pop Tribute Night'
It is now 50 years since Paul Simon's music greed the soundtrack of the film 'The Graduate'(1967) and in 2016 Paul released his most recent album of songs 'Stranger To Stranger'
Relive the memories and sing along to the great songs of this influential artist:  50 ways to leave your lover, American Tune, Graceland, Loves me Like a Rock, Mother and Child Reunion, Slip Sliding Away, Still Crazy After All These Years, Boy In The Bubble, You Can Call Me Al, El Condor Pasa, The Boxer, Bridge Over Troubled Water, CeCilia, Homeward Bound, I Am A Rock, Mrs Robinson,  and many more….
over 50 years later, the GOULBURN CLUB will recognise the achievements and popularity of Paul Simon with a night to celebrate his music on August 25 2017.
Check out the Facebook events page: 'Paul Simon Tribute'
Meal served from 6.30pm "Benjamin's Burgers with parsley, sage rosemary or thyme followed by Mrs Robinson's Sticky Date."
If you are interested in reserving a meal for the night ($12 members $15 non-members, $7 kids) please contact:
chrisandron9@gmail.com or phone  Christine: 0414685060
Current performers include: (likely to change before the night)
GRUB; Greg Angus; Ron McLaughlin; Short Notice; Gab & Jo; Faith White; Gerry Conroy;  Jo & Gabrielle, Southside, Kenny & The Kat Herders; Arrain Mhor, Veranda Band   …..and more
7pm:          BRASS OLDS:     

* Brass band tribute: Scarborough Fair / Sound Of Silence
7.15pm:      ROBERT MARRIOT:     

* Song For The Asking 1969
* 59th Street Bridge Song (Feeling Groovy)  1968

7.30pm:      GREG ANGUS:     

* Duncan 1972
* Papa Hobo  1972
* Hearts and Bones 1983
 7.45pm:     GRUB (Goulburn Regional Ukulele Band):  
* Play Me A Sad Song 1961
* 59th Street Bridge Song (Feeling Groovy)  1968
* El Condor Pasa (If I Could) 1969
8.00pm:        FAITH WHITE :  

* American Tune 1975
* You Can Call Me Al 1986
* Gone At Last  1975
8.15pm:    GERRY CONROY :  
* Wednesday Morning 3A.M. 1964
* America 1968
8.30pm:     Jack Miller (& friends):  
* Mother & Child Reunion 1972
* Slip Sliding Away 1977
* 50 Ways to Leave your Lover 1975
 8.45pm:     RON MCLAUGHLIN:
* Kodachrome  1973
* Was A Sunny Day 1973
* April Come She Will  1965
  9.00pm:    JOCK MCLEAN:     

* Bookends Theme/Old Friends ,  1968
* Homeward Bound 1965
  9.15pm:        ARRAIN MHOR:  
* Scarborough Fair/Cantile 1966
* For Emily Wherever I May Find Her 1966
* A Church Is Burning 1965
  9.30pm:                             INTERMISSION
10.00pm:         JO & GABRIELLE :   
* For Emily Wherever I May Find Her 1966
* Kathy's Song 1965
* Late In The Evening/Call Me Al 1986
 10.15pm:      SOUTHSIDE:  
* 50 Ways To Leave Your Lover  1975
* Diamonds On the Soles Of Her Shoes 1986
* A Hazy Shade Of Winter 1966
 10.30pm:     SHORT NOTICE (Thomas & Lachlan Bensley):  
* Mrs Robinson 1967
* The Boxer 1968
* Bridge over troubled water  1969

10.45pm:            VERANDA BAND:  
* Mother & Child Reunion 1972      (mother-and-child-in-g)
* Loves Me Like A Rock 1973
* Stranded In A Limosine 2004   (stranded-in-g)

  11.00pm:     MARIANNE & BLAKE:  
* Kathy's Song 1965
* America 1968
* Cecilia  1970
 11.15pm:     KENNY AND THE KAT HERDERS :  
* Sound Of Silence  1964
* Baby Driver  1970
* That was Your Mother 1986
 11.30pm :    
FINISH: All In   * Me and Julio Down By The School Yard  1971