Are you a local artist?  Looking for a unique setting to showcase your work?  If you, or anyone you know,  is interested in holding an exhibition at The Goulburn Club please contact Goulburn Club Exhibitions Co-ordinator
 email: art@goulburnclub.com.au
Current Exhibition
August 2017 Sukhvinder Saggu
'VISUAL FEAST'
Opening Friday August 11 6pm
"Sukhvinder Saggu, born in India and settled in Australia, has been painting for the last 40 years. He paints in the realism style and is accomplished in oil and water colour mediums. Sukhvinder has painted over 150 commissioned portraits and won many awards. His work can be seen in many private collections throughout the globe."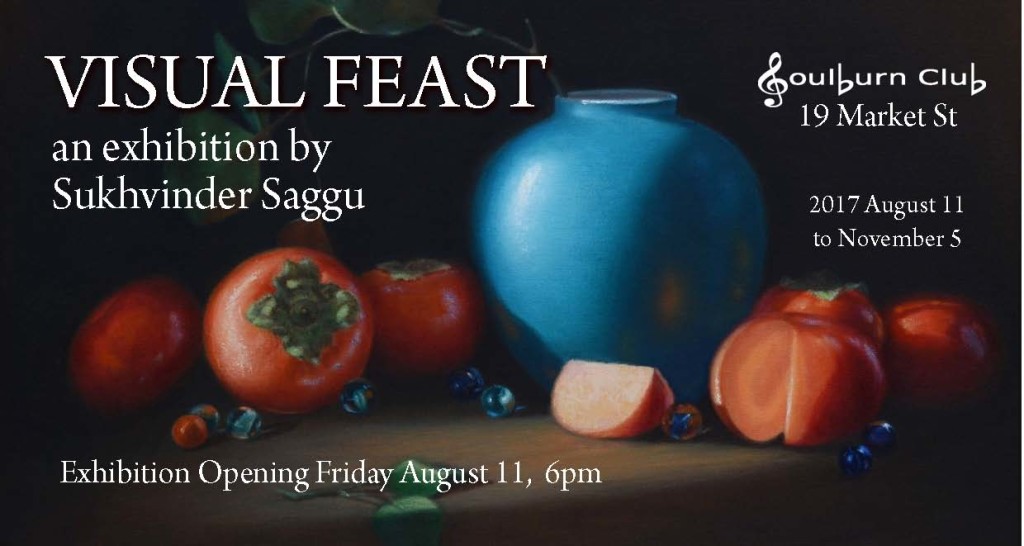 …………………..
Coming Exhibitions
November 2017 Space Dungeon
Eight Canberra artists who share an interest in Science and in Doom Metal each make work in response to the upcoming EP 'Space Dungeon', by local band Monoceros. This work will be exhibited at the Goulburn Club, with Monoceros playing the EP at the opening.

The eight artists involved includes:

Surya Bajracharya, John Hart, Nicci Haynes,

 

Mikhaila Jurkievicz, Alex Lundy, Erica Seccombe, Shags, and Trent Walter.

…………………..
December 2017 Peter Sykes
Born on a farm near Goulburn, Peter went to boarding school in Sydney as a boy. This probably encouraged his broad view of life.
After school he returned to work on the land as a jackaroo, wool presser and general rural contractor before becoming a bricklayer and builder. While loving building he has found a natural progression into photography and then books.
Now travelling broadly to take photographs, which have been exhibited, Peter is relishing the pull of new horizons. Photographing the landscape and environment with people in it showing how their culture has developed largely because of the environment they live in continues draw him in.
Peter presents an exhibition of recent collection of work at the Goulburn Club.
http://petersykes.com.au
…………………..
Previous Exhibitions
…………………..
19 Market St Goulburn NSW Ph: 02 4821 2043
art@goulburnclub.com.au