Are you a local artist?  Looking for a unique setting to showcase your work?  If you, or anyone you know,  is interested in holding an exhibition at The Goulburn Club please contact Goulburn Club Exhibitions Co-ordinator
 email: art@goulburnclub.com.au
Current Exhibition
EAGLES IN THE SKY
Art exhibition by Spring Booth
June 30 – August 6, 2017
Exhibition Opening Friday June 30
in the Gallery Room
"Spring Booth , China born American ,  from California, USA, recently settled in Goulburn, NSW . As a traveling musician , Spring visited 40 countries around the world in the past five years , until she met her husband James Booth. Mr. Booth is a local businessman. The couple currently live in Goulburn and are devoted to community work. 

Spring was interested in creating art from an early age. In her poverty as a child in China , this young girl wrote hundreds of poems to express her dreams. She made her first drawing picture as a teenage. Later on Spring became a mechanical engineer, she kept writing and painting as a personal hobby.  

Beautiful north California coast woke up her childhood dream to travel around the world . In 2012, Spring quit her job and started her world trip: across USA and the Earth . Talk about this trip , Spring always humbly and very thankful  to the people she met. "People are good ! God is amazing grace!" 

"It takes 4 years to study in university, it took me 50 years to learn being humble ."  Spring appreciates that Goulburn Club presents her first art show while she settled her new home. 

Tthe paintings  of Mrs Booth are multicultural and full of beauty and power. " Do small things with great love ." Mrs. Booth surrenders her heart and willing to serve for others."

Goulburn club is honored to host her artwork exhibition. 
GOULBURN LIVE
Music Photography Exhibition by Colin Bell
Exhibition February 2016 – August 2017
in the Gallery Annexe
Colin is based in Goulburn in the Southern Tablelands of NSW, Australia.
Photographer Colin Bell's exhibition 'Goulburn Live' is a snap shot of live music performances in Goulburn.
His interest in music photography was sparked at the Goulburn Blues Festival many years ago. "The lighting, plus the movements of the musicians can make it particularly interesting,"
This exhibition shows images of Goulburn musicians, performing live. Bands, duos and soloists, playing live music are regular subjects for Colin's photography.
"If you want your next gig photographed, let me know."

…………………..
Coming Exhibitions
August 2017 Sukhvinder Saggu
'VISUAL FEAST'
"Sukhvinder Saggu, born in India and settled in Australia, has been painting for the last 40 years. He paints in the realism style and is accomplished in oil and water colour mediums. Sukhvinder has painted over 150 commissioned portraits and won many awards. His work can be seen in many private collections throughout the globe."
http://www.sagguartist.com
…………………..
November 2017 Space Dungeon
Eight Canberra artists who share an interest in Science and in Doom Metal each make work in response to the upcoming EP 'Space Dungeon', by local band Monoceros. This work will be exhibited at the Goulburn Club, with Monoceros playing the EP at the opening.

The eight artists involved includes:

Surya Bajracharya, John Hart, Nicci Haynes,

 

Mikhaila Jurkievicz, Alex Lundy, Erica Seccombe, Shags, and Trent Walter.

https://monocerosdoom.bandcamp.com/album/space-dungeon

https://www.facebook.com/monocerosdoom/

…………………..
December 2017 Peter Sykes
Born on a farm near Goulburn, Peter went to boarding school in Sydney as a boy. This probably encouraged his broad view of life.
After school he returned to work on the land as a jackaroo, wool presser and general rural contractor before becoming a bricklayer and builder. While loving building he has found a natural progression into photography and then books.
Now travelling broadly to take photographs, which have been exhibited, Peter is relishing the pull of new horizons. Photographing the landscape and environment with people in it showing how their culture has developed largely because of the environment they live in continues draw him in.
Peter presents an exhibition of recent collection of work at the Goulburn Club.
http://petersykes.com.au
…………………..
Previous Exhibitions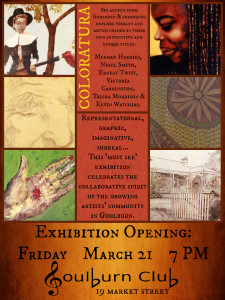 …………………..
19 Market St Goulburn NSW Ph: 02 4821 2043
art@goulburnclub.com.au